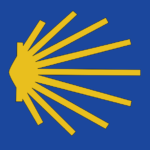 The Road begins its journey at the mouth of the Ebro river and from the towns of Deltebre, Amposta and Tortosa, continues upstream towards Zaragoza. Then he travels the lands of the Ribera de Navarra, to reach Logroño (La Rioja) and join the Road to Santiago. In Escatrón and El Burgo de Ebro (Zaragoza), it joins the Caminos del Maestrazgo and Bajo Aragón that come from Castellón, and in Pina de Ebro (Saragossa) and joins the Catalan Way that comes from Montserrat.
Historical Origin
Historically it has served Hispanic pilgrims settled in the fertile lands irrigated by the Ebro river, as well as pilgrims from the Mediterranean coastal countries who came to land in the vicinity of the Ebro delta. Territorially it runs through the autonomous communities of Catalonia (Tarragona) , Aragón (Teruel and Saragossa), Navarra and La Rioja.
The Path as it passes through Quinto.
The Road is wide, straight and smooth, and it runs through orchards and cereal fields. Leaving the town of Gelsa next to the A-1105 road that goes towards the Ebro river, we cross it through the new bridge and on the other bank we find the hermitage of Nuestra Señora de Matamala to the left, although we continue to the right.
Our way moves away from the highway when crossing the bend of the river, next to a pumping station. We pass by the Quinto electrical substation, cross the Prado canal and continue its course, moving away from the railroad tracks, passing a treatment plant, along the Camino de la Estación until we reach a complex of industrial warehouses that have the same name of Camino de la Estación and where we meet again with the railroads whose layout we will follow until we enter Quinto.
Place of union of the Catalan Jacobean Roads, the one that comes from Montserrat and Lérida, and that enters Aragon through Fraga, and the one that we are now traveling and that begins in San Carlos de la Rapita. The villa has a beautiful Mudejar church dedicated to the Assumption of Our Lady, whose silhouette dominates the entire town and its surroundings and today houses the only museum of mummies in Spain.
As we approach the first houses, we turn left onto Calle del Puerto to reach Avenida de la Constitución, through which we will walk through the town until its exit. In it, the path deviates to the right and heads again towards the train tracks, walks alongside them for a few meters and, already in the vicinity of the Ebro, crosses them to approach the banks of the river.
The road now makes a wide arc between the orchards to return, later, to approach the train tracks, this coming and going to the tracks will continue for a few kilometers until we enter the terminus of Pina de Ebro and Fuentes de Ebro.
Information obtained from the web: www.caminosantiago.org